The internet has brought great changes to the world of photography, from browsing and buying equipment to discussing techniques, and everything in between. Although fewer people choose to print all their photos than they used to with film cameras, printing online also offers a number of benefits over doing so on the high street – particularly with regards to cost and convenience.
To get the most out of online printing, there are a few things to consider, not least where you choose to print your photos. The following feature looks at four of the biggest names in online printing, and explains how to make sure your photos print exactly as you expect.
Where to go
As there a number of online printing companies vying for your business, many will have introductory offers – typically a set amount of free prints on your first order. You lose nothing by shopping around to find the best deal, and this is an ideal opportunity to see whether the print quality from a particular company is what you would expect. Usually you would only be asked to pay for the postage for getting these prints sent to you, so it's worth taking advantage of these deals when you see them.
Locating your files
Whichever company you settle on, you will need your photos on your computer. These can either be on your computer's hard drive, on a CD or USB flash drive, or on a peripheral device such as an external hard drive. Making sure your photos are all in one place first is a good idea, although you can typically upload photos into an account (you'll often be required to register with a site before you place an order) before returning later onto add more.
Some sites, such as Photobox and Jessops, also offer a synchronisation option with websites such as Flickr, which allows you to import your images directly for printing. This can be a great timesaver for finding your favourite images, although if you have previously resized them for security reasons you'll need to make sure they are of a quality sufficient for printing. You will typically be warned if any uploaded images fail to meet an acceptable quality standard.
Types and sizes
All photo printing websites accept JPEGs, and some also accept other formats such as TIFF, BNP and PNG. The advantage of JPEG files is that these are the most common format which cameras use to save images, and they are compressed which allows them to be uploaded quickly.
Remember that almost all compact camera's shoot images in the 4:3 aspect ratio by default, and that this will be cropped (or partially bordered) when printed on standard 6x4in paper. Depending on the service you use, you may be able to crop your images so that important details don't get cut out, but if you want to avoid this from happening in the first place set your camera to record in the same aspect ratio as your intended print size.
There will usually be a limit on the size of the files you send, typically 50MB. JPEGs which have come straight out of a camera will only measure at around 4-5MB (depending on your camera's pixel count and specific settings), but if you've saved your files in an uncompressed format such as TIFF you may need to check that they fall under this limit.
Many sites specify that your images should be saved in the sRGB colour space. If your images have come straight from a compact it's likely that they will be set in this colour space as standard. If you've changed your camera's colour space to AdobeRGB, or if you've edited your files and saved them as CMYK or in another colour space, it's a good idea to save them again in sRGB before uploading. Raw files can have their colour space set upon their processing, so don't worry if your camera wasn't set to this upon recording.
Other upload options
Although the default option for many sites it to upload images via a Java applet, you may prefer to use specific software available from the website of the company you have chosen. The advantage of this is that it is tailored to the service offered, and may provide extra functionality with regards to editing options.
If you plan on uploading many images, you may prefer to use an FTP client; if you don't already have one you can download one for free online. Once installed you will need the FTP address  of the site you are using (typically available in the FTP section of the uploading options) as this will allow you to connect to the site and transfer your images.
WDC recommended sites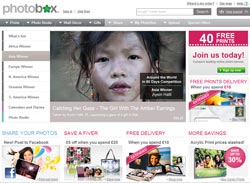 Photobox
One of the biggest names in online printing, Photobox is currently offering 40  6×4.5in or 6x4in prints free of charge (+p&p) to new customers.
It also carries an extensive range of personalised products such as canvas prints, stationery and clothing, as well as the more standard prints and photobooks.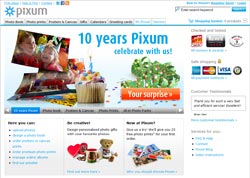 Pixum
Pixum offers a range of printing services, including photobooks, personalised calendars and mugs.
Standard 6x4in prints are priced at 9p each, and at the time of writing there's an offer for 50 free prints.
Pixum also offers Easybook software for Windows, Mac and Linux systems for creating photobooks from your desktop.
Snapfish
Snapfish also currently offers 40 free prints to all new customers, and goes on to offer a range of services from cards and canvas prints to novelty items such as themed books and even gift certificates.
There's also an iPhone app available for browsing and printing images on the go.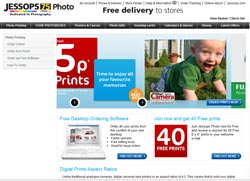 Jessops
As well as offering an online store, high-street chain Jessops offers a printing service. One of the major advantages of Jessops is the option of sending your order to a local store, which is handy if you happen to be near one.
Currently, there's also an offer for 40 free prints for all new customers.