APOY 2014 Round 8 – World in Black & White
Please visit the APOY 2014 home page to find all the rules for entry, terms and conditions, the APOY ENTRY EMAIL ADDRESS, Entry Form (for postal entries), and the disclaimers that must be copied and pasted into an email entry.
Entries must be received by 5pm (UK time) on 31 Oct 2014
There are only three categories left for the Amateur Photographer of the Year 2014 competition, and if previous years are anything to go by, this is likely to be our most-entered round. Black & white has always proved popular, not just in APOY but in the magazine generally. The expressive qualities of monochrome are catnip to photographers. When colour is removed from the equation, the rules of composition, framing and lighting shift their parameters and require the photographer (and viewer) to see the world in a vastly different way.
Many photographers who work exclusively in black & white maintain that colour is a distraction in a photograph. Remove it and the viewer is free to focus on the graphic elements of an image: angles, shapes, lines and textures. Light is the other key factor here. When black & white and atmospheric lighting combine, the power of an image can seem all-enveloping. Take a look back at some of the film-noir movies produced back in the mid-20th century to see how light and black & white can function as perfect partners.
How to enter
Please visit the APOY 2014 home page for information explaining how to enter. Please use your full name as the file name and paste the disclaimer into the body of your email if you are sending your entry to us electronically. We also need to know where and how you took your image, plus the camera and lens used with aperture and focal-length details. Remember to include a telephone number and your postal address so we can contact you if you win.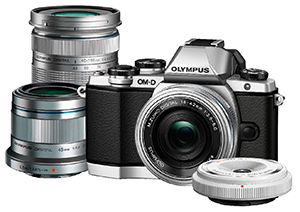 First Prize
The first-prize winner will receive an Olympus OM-D E-M10 with a 14-42mm EZ Pancake zoom, a 45mm f/1.8 portrait lens, a 40-150mm zoom, a 9mm fisheye lens, a macro adapter and a street case in which to carry it all. That's a total retail price of £1,200. The E-M10 has a 16.1-million-pixel, four thirds-sized CMOS sensor and a TruePic VII image processing system.
The 1.44-million-dot EVF displays a 100% field of view and has a 120fps refresh rate. The 14-42mm EZ Pancake zoom lens is the most compact pancake lens and has a maximum shooting magnification equivalent of 0.45x in the 35mm format. The 45mm f/1.8 portrait optic is ideal for low-light portrait work without flash. The 40-150mm zoom has high-speed AF and MSC technology, and the 9mm fisheye lens is ideal for capturing wide angle scenes.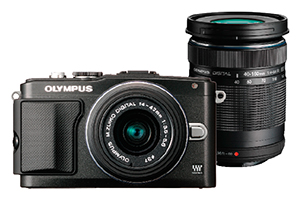 Second Prize
The second-prize winner will receive an Olympus PEN E-PL5 camera plus a 14-42mm and 40-150mm twin-lens zoom kit worth £500.
The E-PL5 offers serious image quality with its powerful 16.1-million-pixel sensor and a new OM-D component in the TruePic VI image processor. The camera has lightning-fast autofocus, a touch-sensitive LCD screen and full HD video.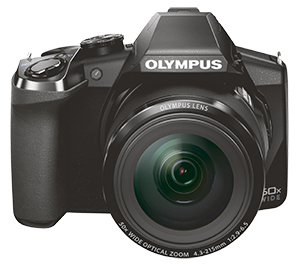 Third Prize
The third-prize winner will receive an Olympus Stylus SP-100EE Ultra Zoom camera, with an impressive 16-million-pixel sensor and 3in LCD screen. The camera includes a handy autofocus lock so you need never lose a shot due to fuzzy focusing.
The camera also features a 50x optical Ultra Zoom lens with a focal length ranging from 24mm to 1,200mm, and built-in Dot Sight to make it easier to focus precisely on distant subjects.
We take a look at some tips and tricks to set you on your way to creating successful black & white images
Why not try…
Backlighting
A general rule in photography is to always keep the sun over your shoulder when taking pictures. Yet shooting into the light can create a striking atmosphere, especially in black & white. This is particularly effective if you're looking to achieve a silhouette. However, there are a number of ways to get a balanced exposure if that's what you're looking for. Using fill-in flash on your foreground interest is perhaps the easiest method. You could also take two exposures – one for the foreground and the other for the backlight – and blend them.
High Contrast
Choosing a high-contrast scene removes all nuances and pushes the greys of your image towards the black & white ends of the spectrum. The results will be simple, yet striking, compositions.
Visualisation
The world around us is full of colour. So when it comes to shooting in black & white it's necessary to change tack and see in tones rather than shades of colour. Black & white is another way of interpreting the world we see. The key to producing great images is to think about how colour translates into tone. Think about the range of tones in the scene in front of you and the proportion of shadows and highlights. How do they work together within the frame? The main subject must draw the viewer's eye, so pay careful attention to how this is rendered in black & white.
Photo by Phil Hall
Toning
You can always try toning your image, perhaps using a sepia tone to make your image appear old-fashioned. Or perhaps a split-tone image by adding different degrees of blue to the shadows.
Textures & Patterns
When colour is removed, a scene can look flat when there's nothing of interest within the frame. Since you can't rely on bold colours for impact, you could always try incorporating textures and patterns into your image. Perhaps early morning light raking across a landscape takes your fancy. Or you could even try shooting a portrait in contrasty light to reveal textures in a wizened face. An abstract approach would also be ideal. Get in close or shoot reflections. Seek out bold shapes, lines and unusual viewpoints.
Please visit the APOY 2014 home page to find all the rules for entry, terms and conditions, the APOY ENTRY EMAIL ADDRESS, you may use the Entry Form (for postal entries), and the disclaimers that must be copied and pasted into an email entry.
Entries must be received by 5pm (UK time) on 31 Oct 2014