Pentax K-5 II review
ISO sensitivity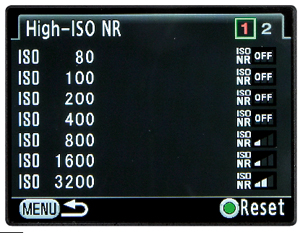 In its standard setting, the ISO range is 100-12,800. However, this range can be manually extended through the custom menu to a class-leading ISO 80-51,200. Unlike some other camera systems, the expanded settings are available at full resolution and in raw and JPEG capture.
Impressive as its performance may be in low light, noise is evident at the high ISO settings. In the high ISO NR menu, one can choose between low, medium, high and auto NR.
What is particularly useful, though, is the custom NR setting. With this setting selected, the low, medium, high and auto NR settings can be individually selected for each ISO setting. This eliminates the need to fiddle with the NR settings for JPEG files every time one changes the ISO setting.