Nikon D5200 review
Features
The Nikon D5200 can be described as a camera with the performance to satisfy an enthusiast in a body that is designed for the beginner. There is little in the new model that we have not seen before in other Nikon DSLRs, but what the company has done is bring together the high-end performance of the D7000 and a high-resolution sensor like that in the D3200, all in the compact and beginner-friendly body of the D5100.
With a 24.1-million-effective-pixel sensor, the D5200 has an output that is virtually the same as the D3200 and some enthusiast-level Sony models. The 6000x4000-pixel output produces prints at 20x13.3in with the pixel output set to 300ppi, which is larger than A3. Full-resolution raw-file sizes are 36MB, while JPEGs are 15MB. If the image size is too large, the 24.1-million-pixel resolution can be reduced to 13.5 million pixels (medium) or 6 million pixels (small).
Nikon insists that the sensor in the D5200 is revised from the one used in the D3200, although when comparing like-for-like images it is difficult to see much difference between the two units. However, the D5200 has extended ISO settings up to 25,600, while the D3200 only goes up to ISO 12,800. Furthermore, the D5200's video-recording capabilities have been enhanced to a 60fps record rate.
Like the D3200, the D5200 uses Nikon's latest Expeed 3 processor. Its processing power enables a 5fps shooting rate in the continuous high drive mode for full-resolution files. In raw format, the burst is a modest six frames, but in JPEG format it is up to an impressive 100 frames, which covers a period of 20secs.
As in its predecessor, shooting modes in the D5200 include 11 scenes and seven creative effects, with each menu on the shooting-mode dial quickly navigated via the rear dial. HDR mode is available in JPEG format only, and comes in three levels of strength or auto. Using a tripod is best when using HDR mode because the exposure values are captured over consecutive frames and there is no auto-align function.
There is a wide range of accessories available for the D5200. The camera does not have wireless or GPS built in, but these functions are available through the wireless mobile adapter WU-1a, which was announced alongside the D3200, and GP-1 GPS unit respectively. The WU-1a is designed for wireless data transfer and control of the camera's shutter via a smartphone or tablet device.
Nikon has also announced a WR-R10 wireless remote transmitter, although the port for a wired remote like Nikon's MC-DC2 remains. These accessories are reasonable, but add a considerable cost
to what is a more budget-level DSLR. I would not be surprised if, in the next generation of SLRs, Wi-Fi and GPS are built in.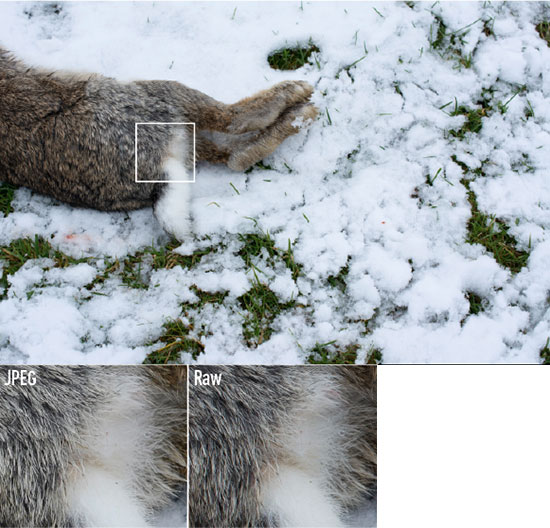 Image: From a direct comparison between a JPEG and a raw file, it is clear that shooting in raw provides the crispest detail