Fujifilm X-E1 review
Noise, resolution and sensitivity

Image: The ISO 100, 12,800 and 25,600 extended settings are available as JPEG images and not as raw files
The Fuji X-E1 uses the same 16.3-million-pixel, APS-C-sized, X-Trans sensor that was introduced in the X-Pro1, which means it is able to capture a high level of detail. Both the Nikon D800E and Leica M Monochrom clearly benefit from the removal of the anti-aliasing (low-pass) filter, with sharper detail when compared to their direct counterparts, the D800 and M9 respectively. This filter removal is becoming something of a trend, with Pentax announcing that it would also be missing in its K-5 IIs.
As for the X-E1, it can resolve way beyond what we would expect from its pixel count, based on our experience of like-for-like cameras, such as the 16.3-million-pixel Nikon D7000 and Sony Alpha 57. Even JPEG images straight from the camera are crisp.
Raw File Converter EX software comes bundled with the camera, and has been used to process raw files, although the X-E1's raw format is already compatible with Adobe Lightroom 4.2. I shot the resolution charts for this test with the new 18-55mm lens, which indicates the camera can resolve up to the 33 marker when in its ISO 200 setting, which is excellent.
Detail is present in the chart all the way to the end, but not the full nine individual lines. In most other cameras at this level, there would be just a blur beyond the point it reaches on the chart. It is clear, however, that to get the most detail out of the X-E1 it is necessary to use raw format because detail is a little softer at high ISO settings in JPEGs.
A native ISO 200-6400 range is more limited than that offered by other competing cameras, but can be expanded to ISO 100-25,600, although the expanded settings are available in JPEG format only. Against the competition, there are few that can match the X-E1's control of noise.
In unprocessed raw files, luminance noise is more clearly present from ISO 1600 and up, but the effect of this is easily reduced during processing and does not pose any significant compromise to detail. JPEG files have a good hold of luminance noise throughout the entire native ISO range, but at the cost of saturation and sharpness, through noise reduction during processing.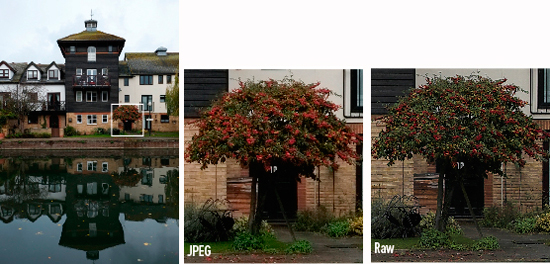 Image: It is possible to get crisper and finer detail from a raw file than it is from a JPEG image, so it is worth shooting in raw format whenever possible