Fujifilm X-E1 review
Viewfinder, LCD and video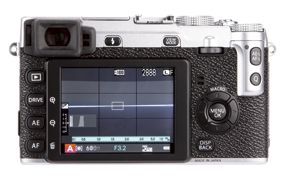 With a smaller body than the X-Pro1, Fuji claims it was necessary to reduce the size of the LCD screen on the X-E1, which, like the X100, is a 2.8in display with 460,000-dot resolution. In bright sunlight, I found the screen not quite bright enough to see the correct exposure, but clear enough to view general detail for successful composition.
In another space-saving change, the X-E1 uses a purely electronic viewfinder rather than the hybrid type found in the X100 and X-Pro1. The first thing to note is that finally there is a dioptre adjustment for the viewfinder, at -4m to +2m. The display itself has a 2.3-million-dot resolution, which is a marked improvement on the 1.44-million-dot hybrid display of the X-Pro1. When viewed next to each other, it is clear that the X-E1's display has much richer tones and higher contrast. As before, it lags a little with quick panning, so while it is bright, the comparative Sony unit has the edge for responsiveness. To the right of the viewfinder eyecup is an eye sensor to switch between the rear and viewfinder display.
The X-E1 is primarily a stills camera, and while the video functionality is a tad basic it is enough to satisfy, thanks to the full HD 1080p recording at 30fps. A 2.5mm mic port is included on the
X-E1 - something that is not available with the X-Pro1.