Nikon Coolpix P7700 review
Build and handling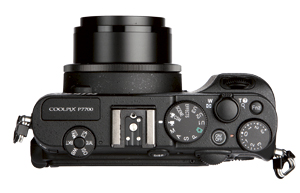 Despite removing the optical viewfinder, the Nikon Coolpix P7700 is still about as large as compact cameras come. In our fast-aperture compacts group test in AP 24 November, we found the P7700 to be the largest and heaviest camera in its class. In itself, this is not necessarily a bad thing. Its 392g weight is hardly going to cause anybody a sore back, but the camera isn't so easy to fit into a pocket unless it's on a big winter jacket.
The camera construction itself can't be faulted. The body is strong and sturdy, with a good array of buttons and dials. Of these, the most useful are the two function buttons, including one that is on the front of the camera, and the exposure compensation dial, which makes it easy to adjust the exposure.
An unusual dial is the one that controls the image settings. A turn of this dial accesses the bracketing, image style, sensitivity, image quality, white balance and custom shooting settings. Having been more used to using direct buttons to access features such as these, the dial does take some getting used to. However, once mastered, it actually proves to be a neat solution that allows
quick access to features that tend to be less accessible.
For those photographers who are more used to handling enthusiast or professional DSLRs, the front and rear control dials also make for excellent handling features. Just as on a DSLR, these allow the aperture or shutter speed settings to be changed with a swift turn of the dial. Alternatively, there is a range of different ways in which the various function buttons and dials can be customised to make the P7700 operate in a way that is more familiar, or at least preferable, to the photographer.