Backchat
Send your thoughts or views (about 500 words) to 'Backchat', Amateur Photographer, Blue Fin Building 110 Southwark Street, London SE1 0SU or email with the subject heading 'Backchat'. Please include your full postal address with your submission.
If we publish your article in Amateur Photographer magazine we will pay you £50!


Letters
Share your views and opinions with fellow AP readers every week on the AP Letters pages.
If yours is chosen as Letter of the Week* you'll win a 16GB Samsung SDHC card
Write to 'Letters', Amateur Photographer, Blue Fin Building, 110 Southwark Street, London SE1 0SU or email with the subject heading 'Letters'. Please include your full postal address with your submission.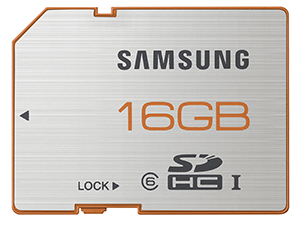 *NB: Prize applies to UK and EU residents only
Letter of the week - 12 April 2014


Not just any old wedding photographer
I was particularly interested in David Clark's article on E Chambré Hardman (Icons of Photography, AP 22 March). Although he 'retired' in 1966, Hardman continued to run his business from his home and studio in Rodney Street, Liverpool, for a number of years afterwards. I know this, because in 1973 Hardman was our wedding photographer.

We were getting married in Liverpool and my then fiancée and I were on the lookout for a no-frills photographer who would keep costs to a minimum.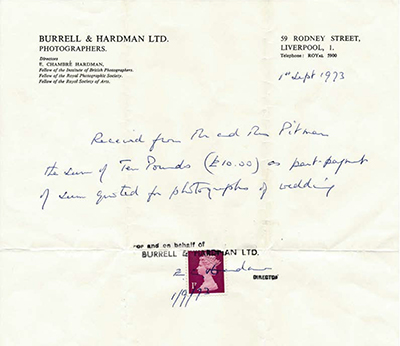 Burrell & Hardman on Rodney Street fitted the bill and, on the appointed day, an elderly photographer turned up with his Rolleiflex and painstakingly took the usual wedding shots. When we visited the studio to collect our prints, my wife commented on the photographs hanging in the reception room and suggested they were there for decoration - we did not connect them with the photographer! Hardman went through each of our photographs, explaining the various techniques he had used to achieve the results he had wanted. We paid our money (about £15, I think) and left with ten 8x6 prints in a little folder protected by a brown cardboard sleeve (in which they remained for years).

It was many years later that we discovered that our photographs had been taken by such a distinguished photographer. The photographs are now in an album and are highly valued.

Steve Pitman, West Yorkshire

What a great story, Steve - Nigel Atherton, Group Editor
Backchat

AP reader John Gilbey considers the unexpected benefits of the stored Exif data in our digital images

When I was young - a brief interlude sometime between the last ice age and the arrival of colour television - my local camera shop kept a modest display of useful notebooks on the counter. Impressively priced at 4s 6d (22.5p), which would buy you a packet of developer in those days, they contained 50 or so pages, each ruled into 24 or 36 lines, with elegantly coloured columns denoting date, time, aperture, shutter speed, flash (yes/no), subject and location.
More organised photographers than myself used these journals to record in sumptuous detail the journey through their photographic life, allowing them in a moment to find a favourite image, the date of an excursion, or to diagnose why the image rendered from frame 27 looks more like Impressionist art than a portrait of next door's cat. My own notes were hastily scribbled in pencil on the heavy paper spine of the negative filing sheet, or curtly daubed with a marker pen on the Kodak-yellow boxes sent by friends at PO Box 64. I never managed to index my growing collection to my satisfaction.
Digital photography came as a revelation. Not necessarily for the quality, which in my view is only now beginning to live up to the hype, but for the delight of the additional data held within the file format. Exif (EXchangeable Image File) data holds all the information those 1960s notebooks aspired to - and much, much more. With the right camera, GPS data is embedded in each photo so that you will never again wonder where it was taken, the precise focal length of the zoom lens at the moment of exposure will answer other questions, as will the date and time - to the nearest 1/100sec.
Useful stuff, but why am I so excited about this? In this country we have a long and noble tradition of amateur naturalists gathering detailed information about the passage of the seasons: the migration and nesting of birds, dates of emergence for the leaves and flowers of particular plants, the dates when snow finally disappeared from mountain peaks. Recent research into environmental change has used these superb sources extensively, but while important, they don't form a complete picture of times past. The records are precious but often sparse - based on enthusiasm rather than necessity - and they rarely follow a standard format.
Today, we capture a mind-boggling volume of data about our everyday lives. Around the edges of our chosen subjects there are plants in flower, weather conditions are visible and all manner of contextual information about the environment is inadvertently captured - all of it stored with the matching Exif data confirming when and where the image was taken. For the environment researchers of the future, these sets of data could be extremely important as detailed, wide-ranging records of our - rapidly changing - world. Guard your digital image files carefully - they may be even more important than you think.
If we publish your Backchat in Amateur Photographer magazine we will pay you £50!