Photo by Nick Clark
Three AP readers join photographer Michael Bosanko in London's Hyde Park to try their hand at the art of light painting. Oliver Atwell joins them
You would be forgiven for forgetting what daylight looks like in these bleak winter months. As we grudgingly rise from slumber, we throw open our curtains only to be confronted by a still mist of darkness. It's not much better as we leave our places of work. We travel home under the blanket of night reminiscing about the good old days when the sun did a full day's shift. Yet a good photographer is an adaptable photographer, and tonight Michael Bosanko is going to show us exactly what we can do in these frostbitten evening hours.
Light painting is, on the surface, simple. You set your camera to a long exposure and stand in front of the lens with a torch and draw a picture. Yet within this craft there are hidden elements and tricks that will elevate your images to another level.
'Through light painting, you can turn a very ordinary scene into something vibrant,' says Bosanko, as the group sits down for a coffee. 'You're creating something out of nothing. When you're creating these images, you can't see what you're doing until the image appears on the back of your camera. I've been doing this since 2004 and I am still amazed by the results. Most of the time the images will come out as I imagined, but you also learn very quickly that it's not a precise art - the margin for error is huge.'
Often the photographer will have a location in mind before the idea for the light painting is formed. Bosanko will remember locations so he can return there later to create a work. However, just creating a light painting isn't enough - the environmental context must also engage the viewer. This evening the location is London's Hyde Park. It's an area that offers various pockets of interest and demonstrates that light paintings can be created in any location.
'The most important thing with light painting is to get out there and do it,' says Bosanko. 'There's nothing wrong with planning something on paper, but there's no substitute for experience. You'll learn what kinds of light sources work in different environments. You'll also find out about exposure settings, which is vital when it comes to creating light paintings.'
This evening Bosanko is keen not too push the three AP readers too hard in their creations. The important thing is for everyone to have fun and keep it simple. Light painting is similar to ordinary painting in that the learning curve moves from simple strokes to broad and increasingly complicated creations.
So, with that in mind, the group moves from the warmth of the café and into the black expanse of Hyde Park, armed with cameras, tripods and a whole host of torches.
Your AP Expert...

Michael Bosanko has been making light art (or light graffiti) since 2004, a process he discovered by accident one evening while shooting in Greece. He has created many personal projects and has produced work for several clients, ranging from TV commercials, film, company profiles, animation, album covers to private commissions. He has worked all over the world and is based in South Wales.
'You need to ensure that the colour balance is correct, otherwise your images will have a strange colour cast that will not be true to the location'
Your AP Readers...

Michel Bewley-Bienvenu
Michel is a freelance cameraman who enjoys landscape and portraits. He uses a Nikon D200 with Nikkor 18-70mm and 10.5mm lenses

Nick Clark
Nick is a BBC business analyst who enjoys photographing live music and light painting. He uses a Nikon D200 with Nikkor 18-70mm and Nikkor 10.5mm lenses

Bec Leonard
Bec is a freelance photographer who uses a Canon EOS 5D Mark III with a Canon 24-70mm lens. Her photographic interests include live music, portraits, film photography and fashion
Would you like to take part?

Every month we invite three to five AP readers to join one of our four experts on a free assignment over the course of a day. If you would like to take part please email oliver_atwell@ipcmedial.com for more details. Please include your name, address, email address, daytime telephone number, some words about your work and three or four of your images.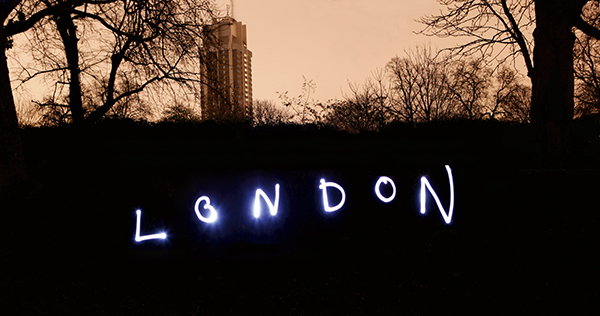 Photo by Bec Leonard
Light Writing
One of the first things you can try your hand at when tackling light painting is writing words. The shapes are simple and it will give you a good idea as to the speed at which to draw and how to expose your shot accurately. Just make sure the letters are the right way round.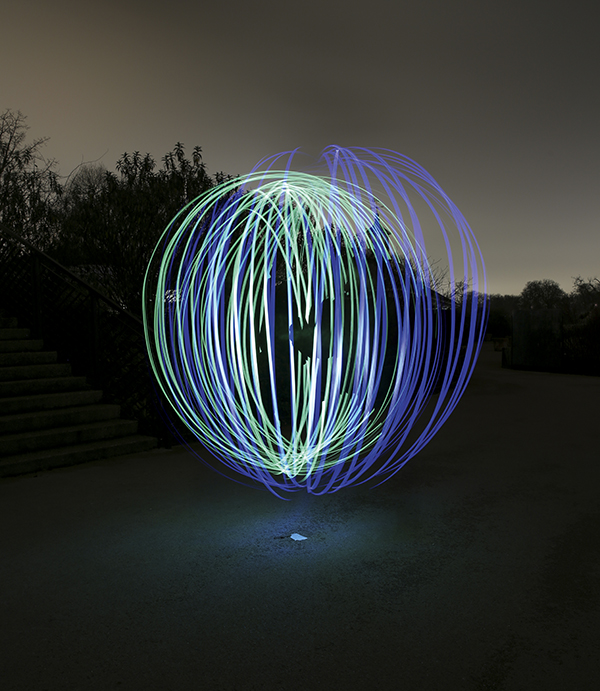 Photo by Michel Bewley-Bienvenu
The Orb
One tool on offer to the group was something that Bosanko referred to as the 'orb'. For this, he taped together two torches that were facing opposite directions. He then secured them to the end of a dog lead. The idea is to swing the torches in such a way that it will create a circle motion, while moving your body 360°. This will create an orb.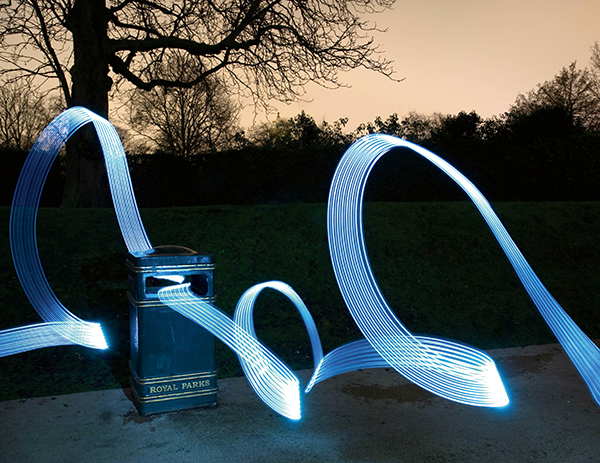 Photo by Nick Clark
Using the Environment
Choosing the right environment is the first step when setting out to create your light painting. Once there, it's a good idea to look around and see if there are any elements that can be utilised. Here, Clark has created a simple yet lively image by employing a park bin as part of his scene. The light was created using a series of small LED lights.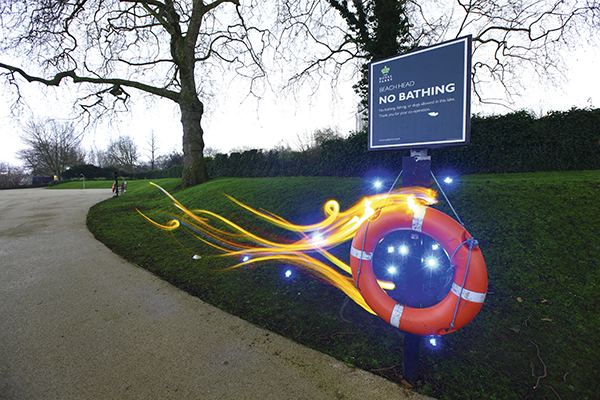 Photo by Michael Bosanko
The Location
Once the group reaches the first location, the bank of the Serpentine lake, Bosanko says they must first consider some basic principles. The first step is to ensure that the colours of the environment are accurately represented. Bosanko is keen that the readers take full control of their equipment - such as colour temperature, shutter speed and aperture - so nothing, within reason, is left to chance.
'The first thing I do when I set up in a location is to take an experimental shot of the environment,' says Bosanko. 'I'll do that even before I'm thinking about creating a picture. My first thought is to deal with the colour temperature of my images. You need to ensure that the colour balance is correct, otherwise your images will have a strange colour cast that will not be true to the location. More than that, it could mean that the light emitted from your light sources looks wrong. With city locations, you want to set your camera to a cooler temperature - a lower Kelvin.'
This is important advice, because working in a town or city will mean capturing the tungsten-spill from objects such as buildings, street lamps and passing traffic, and you need to reduce the warm cast.
'It's a different story in other locations,' says Bosanko. 'If you're out in the countryside, or somewhere with limited light pollution, you want a warmer colour temperature, otherwise the image will look too cool and again look very unnatural.'
The next step is to set the aperture, with the group setting their cameras at f/5.6 and their ISOs to 160. If the source lights are not too bright, the aperture can be widened - it's a question of judgement with each new location. However, for the purposes of tonight's Masterclass, f/5.6 is more than adequate.
'City locations can sometimes present problems when you're including sky in the frame,' says Bosanko. 'Light pollution can let too much light into your camera so the night almost appears as daytime. If you have this problem, try reducing your ISO or perhaps closing up your aperture by 1 stop.'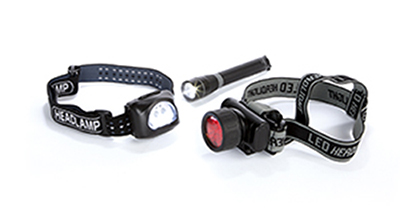 EQUIPMENT CHECKLIST
Camera with wideangle lens: A wideangle lens will ensure that enough of the surrounding environment is included in the shot
Tripod: As the exposures can take some time, it's crucial that the camera is steady at all times
Cable release: This will be used when working in the camera's bulb setting
Flashgun: This can be used in conjunction with colour filters or acetate
Variety of torches and light-emitting implements