In the 1980s, an advertising campaign ran in Northern Ireland stating that 'Belfast is buzzing' in an attempt to persuade reluctant shoppers to visit the deserted city centre blighted by bombings and shootings. Fast-forward to 2012 and the city really is buzzing, and with hordes of tourists enjoying the bustling pavement cafés there is little to mark Belfast out as any different to other European capital cities.
Gone are the soldiers perched on street corners and the armoured vehicles that rumbled through the city centre. In their place are buskers, street vendors, busy shoppers and the many quirky characters who tend to populate city centres, often causing you to do a double-take. And it is for exactly for this reason that Cathal McNaughton has chosen Belfast for his fourth AP Masterclass in street photography.
When it comes to street photography, Cathal firmly believes it is essential to have an open mind and to leave your preconceived ideas about a city or a country behind you. 'I think people who aren't from Northern Ireland quite understandably have certain ideas about Belfast and what they are going to see,' he says. 'They possibly think that street photography in Belfast will entail dramatic shots of violence, soldiers and murals - the sort of thing you used to see on the TV news. These days, though, Belfast is pretty much like any other city.
'If you are expecting dramatic scenes in Belfast city centre on a sunny Saturday afternoon you will be disappointed, and the same goes for any other city you might think you know. We can't rely on Belfast or any other city to give us great pictures - that has to come from us.'
According to Cathal, ditching the clichés and preconceptions is essential when trying to take images that capture the very essence of what a city like Belfast is all about - and the same rule can be applied anywhere. 'I want to see your Belfast, your city,' he tells the four AP readers who are joining him in the city where he started as a trainee press photographer aged just 17. 'I don't want to see a mishmash of ideas you have seen on the news. It has be your reality.'
Street photography is about capturing the daily life of the city, he says. The photographers should aim to encapsulate the feel of the area they are photographing. 'In theory this sounds simple,' continues Cathal, 'but there also has to be some kind of focal point within the frame. We need to grab the viewer's attention. The picture must contain a question or an answer. In a sense your images are meant to look like a snapshot, totally uncontrived and simple. However, as we know, simplicity can be hard to attain.'
Your AP Master...

Cathal McNaughton
In his career as a press photographer, Cathal has covered conflicts in Northern Ireland, Iraq and Afghanistan. Providing images to The Press Association and Reuters news agency, he has been named UK Press Photographer of the Year and received numerous awards, including the 2011 Amateur Photographer Power of Photography Award. Cathal is also a regular contributor to AP's Photo insight series. He is based in Northern Ireland. Visit www.cathalmcnaughton.com.
The AP readers...

Hannah Johnston
Hannah is aiming for a career as a professional photographer when she completes her HND course at South Eastern Regional College in Lisburn. She uses a Fujifilm FinePix S5 Pro with an 18-55mm lens. 'Cathal has taught me that if you see something in front of you, don't photograph it straight on,'she says. 'You need to move around and not be lazy.'

Peter McAuley
Peter enjoys shooting wildlife and loves photographing birds. He uses a Canon EOS 40D with a 24-105mm lens. 'I would never have thought of coming to a city to take pictures,' he says. 'I'm amazed at the variety of subjects.'

Charles McNaughton
Charles lives in a rural area of Northern Ireland where he mainly shoots landscapes. He uses a Canon EOS-1D Mark III with a 24-70mm f/2.8 USM IS lens. 'I was very nervous about approaching people at first, but everyone has been very receptive,' he says.

Lauren Robinson
Lauren is a first-year photography student. She uses a Canon EOS 500D with an 18-55mm lens. 'Cathal has taught me that if you find the right background, it's important to wait for the right subject and it could take hours,' she says.
Would you like to take part?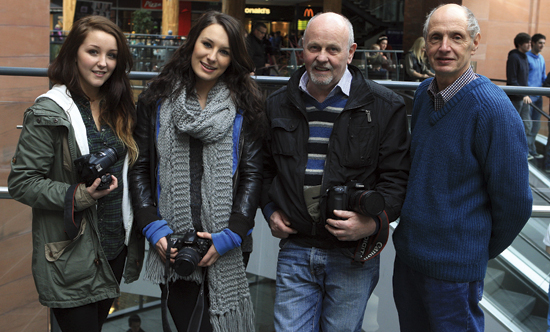 Every month we invite three to five AP readers to join one of our four experts on a free assignment over the course of a day. If you would like to take part, visit www.amateurphotographer.co.uk/masterclass for details of how to apply. Please remember to state which Masterclass you would like to attend and make sure you include your name, address, email address, daytime telephone number, some words about your work and three or four of your images